Icc Virtual Fine Art Show 2021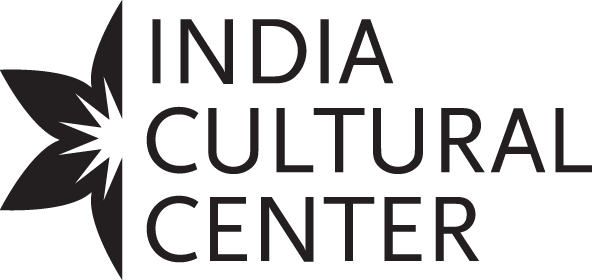 A world of experiences lies in the human subconscious; a wealth of memories, connected layer by layer. It's my journey to rediscover that spiritual dialogue between our mind, body, soul, and actions.
After learning about the animal cruelty that goes into paints, brushes, and really most traditional art materials, I threw my old supplies away and started on a new journey of 'Vegan Art'. This has been a guiding force within my practice ever since.
But beyond physical materials, I am also incorporating my body, spirit, and mind into my work. We live in a sea of vibrating energy – our bodies, our human material, and the products we create. I want to use the purest of raw materials to translate these pure vibrations.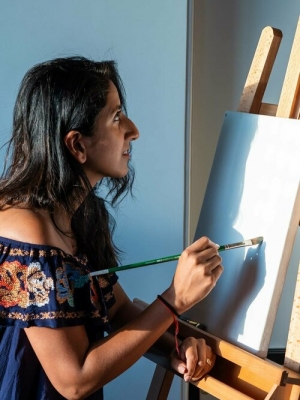 My artwork is about identity –– Cultural identity, gender identity, spiritual identity and all that lies between. Although all very different in their processes, each identity discussion is explored using various layering techniques. Some utilize abstract layered color pigments and gold leaf as symbolic explorations of philosophical and spiritual theories while others utilize a more direct use of layering identifiable figurative images. Below are some specific examples of how these varying layering techniques are used to explore and discuss identity.
Cultural Identity is a subject matter I explored in my Identity Series. The series was a way for me to visually explore and discover this notion of "Infused Identity". Born in Mumbai, I was then swiftly moved to Belgium where I grew up and have lived most of my adult life within the US –– my unique external and internal identity can often be difficult to reconcile in any simplified manner. Which of those limiting boxes do I check on the census? No single identity can sum up everything about me –– we as humans are more complex than that. So it is within this series that I explore my deeply complex and beautiful cultural heritage by creating repeated layers of the word, "identity" in my 3 native languages –– in English (Identity), Dutch (Identiteit), and Gujarati (ઓળખ). There is an abstracted visual effect of stitched embroidery, as if the words are stitched together into the paper itself.
Gender identity, what it means to be a woman, is something I explore in my Spirit of Shakti Series. Raised in a conservative Indian household, my female relatives in India cover their faces with a veil. Although I do not wear a veil, growing up around this cultural reality has led me to think about the more symbolic ways we as women may be shrouded, or covered, within all our varying cultures. Even more so, I am interested in discussing who we are as individuals behind those symbolic veils –– what is our identity? I explore these concepts by methods of layering drawn and painted images of women with images of goddesses and symbols. The women I draw are the 'every woman'. Every woman is a goddess. She is the fervent autonomous goddess who knows how to stand for herself. Through the archetypes of goddesses I can explore the questions of who we are and what a woman stands for.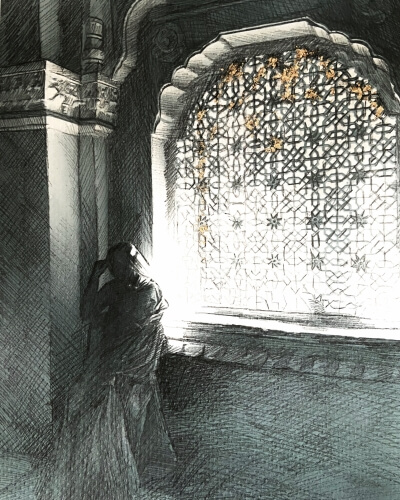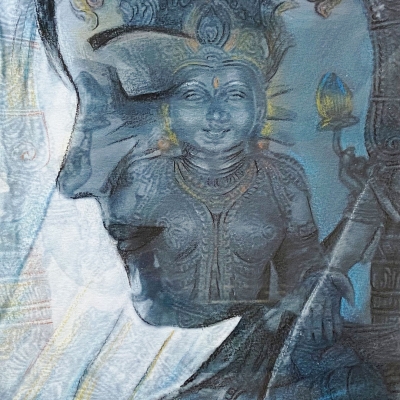 For me, Spiritual Identity starts with the question, "Who am I?". This is a constant quest to the journey of consciousness. I explore this exact concept, this exact question within my Karma Series. Similarly to my Identity Series, I do this through a layering process, but by utilizing various materials. Each layer is symbolic to the spiritual process, starting with pure gold leaf which is adhered with plant based adhesive. The last layers are embroidered cotton threads that signify connection and protection. These layered pigment works are exploring the Jain philosophy of soul and karma –– an ancient Indian religion, teaching a path to spiritual purity and enlightenment through disciplined nonviolence to all living creatures. I use my creation process as a method of exploring these philosophies for myself –– I need to "see" an abstract theory to believe it. These Karma pieces are, for me, a manifestation of this abstract philosophical thinking.
All works are for sale unless otherwise noted.  Prices are noted.  To purchase, either add to the cart and check out OR contact us for more info.  Framing is available at an additional charge, please contact artwork.shreya@gmail.com
A portion of the sale will benefit ICC.  Thank you for taking out time and exploring these works.  All purchases are 100% tax-deductible.
I have other works available for sale, explore here.  If you are interested in other works, sizes, or would like to discuss commissioning a work, please contact me at artwork.shreya@gmail.com